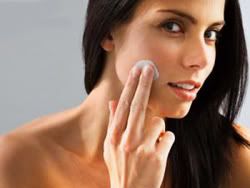 early signs of skin cancer may be possible to disguise wrinkles so skin looks younger.
This was revealed from the research field of dermatology, University of Michigan, U.S., against
skin cancer cream
called Efudix ..
This cream is usually used to treat actinic keratoses, and also can refine rough skin and wrinkles, giving a brighter color, to remove the black stain on the skin.
"Cream the production of 'Valeant Pharmaceuticals' that heals precancerous diseases caused by exposure to sunlight for too long has triggered increased production of collagen in the skin. Collagen is what will disguise the wrinkles on the face," said Dr. Dana Sachs as a researcher was quoted as saying Dailymail.
Treatment with a drug known as fluorouracil is not hard. After the cream is applied to the face such as the neck, forehead and lips, at first the skin will become red and itchy. But not long after that, the patient will feel her skin look younger, than the cancer was gone.
Sachs and colleagues conducted a study on 21 people aged 56-85 years with disease actinic keratoses and skin damaged by sun exposure.
Research volunteers wearing the cream on your face twice a day for two weeks. Then the changes observed in the skin through several techniques researchers face a biopsy after six months. [L1]