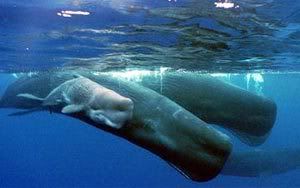 Morocco -
Whales
Sperm , even in some remote area in area waters already contain toxins and heavy metals in a high level.
American scientists in a report showing high levels of cadmium, aluminum, chromium, lead, silver, titanium and mercury in tissue samples taken from nearly a thousand whales for five years. In the polar regions of the equatorial waters, whales have been exposed to pollutants caused by human waste that was thousands of miles away, the researchers said.
"Contamination of this, I think, would threaten human food supply. It will also threaten the existence of whales and other animals that live in the sea," says biologist Roger Payne, Ocean Alliance founder and president, research and conservation groups who made this report.
The discovery of mercury was discovered as many as 16 per million in the pope. Other fish affected by mercury such as shark and swordfish, which also tend to be bad for children and pregnant women, have a level spread of approximately 1 per million animals.
Studies have shown whales average 2.4 parts per million of mercury, but the authors of the report say their organs may have a much higher level than there are samples of skin.
"The marine life all just loaded with a host of contaminants, most of which have been released by a human," Payne said in an interview on the sidelines of the annual meeting of the International Whaling Commission.
Payne said the sperm whale, who top the food chain, absorb contaminants and forwarded to the next generation when women nurse the calf.
"What he's actually doing is dumping the accumulated life of things that dissolve in fat to the baby," she said, and each generation passed over to the next.
Finally, Payne said, this could endanger the marine food contaminants, the main source of animal protein for one billion people.
"You can give a strong argument to say that this is the biggest health threat ever faced by mankind. I predict that this will shorten its life if it continues to happen," said Payne again.
Payne mentioned that the group that conducts research valued at U.S. $ 5 million (Rp45, 5 billion) is the most comprehensive study ever undertaken regarding the spread of pollution at sea. [Mor]