Kompas.com - Some people feel less comfortable when I have to wear glasses to correct vision. Use the tool was perceived less practical and inhibits the daily Activity. But thanks to contact lenses (softlense), is now "the eye minus" can be free of glasses.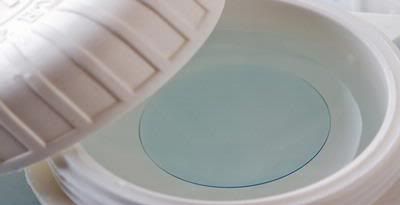 Various types of contact lenses can now be found and support the display, such as through the beautiful colors that allow us "colored" eyes or even based on the usage period. There are a disposable type, there is a period of 30 days, and some are permanent.
Whatever type of contact lens is chosen, we still need to maintain and clean the contact lenses according to the rules listed in the packaging. Also, keep in mind is the eye contact we can not keep up to 24 hours with contact lenses.
According Dr.Tri Rahayu, Sp.M, FIACLE, eye specialists from the Jakarta Eye Center, the use of contact lenses for more than 10 hours can cause symptoms of oxygen deficiency, namely dry eyes, redness, itching and irritation. "Complaint-related discomfort is usually caused by contact lens wear for too long," he said.
Unfortunately there are many contact lens users who do not know or did not realize it. "70 percent of contact lens users who had experienced eye irritation due to contact lenses do not ever say that to the eye doctor," said Danny Widodo, Indonesia country head CIBA Vision.
In addition to duration of use of contact lenses, complaints of discomfort usually arise because the lens reversed, the usage is up, or there are tears in the lens. However, according to Tri, the danger is that if lack of oxygen. "The eyes also need to rest and take oxygen again," he explained.
Impact of oxygen-deficient eyes in the beginning is not so perceived by users. But over time can cause cloudy vision disorders such as corneal oxygen deficiency.
In extreme conditions, lack of oxygen can cause blood vessel growth into the cornea (neovascularisasi) which will drain into the cornea in response to oxygen deprivation. "Normally the cornea is not allowed to take in blood because it can interfere with vision and cause bleeding when performed lasik surgery," he explained.
Oxygen carrier
Lack of oxygen to the eye must be stopped with a way to temporarily not use contact lenses or rest my eyes. In addition, we can also conduct prevention by selecting the appropriate contact lenses.
In order to give perfect comfort for the eyes are already in contact lenses that can deliver more oxygen intake for eye health. Made of silicone and hydrogel contact lenses Air Optix Aqua is highly recommended for those with active lifestyles because they can be used up to 10 hours every day.
Convenience is also due to
lens TriComfort
unique Technology that helps lubricate the lens, retaining moisture and minimize the number of lens dehydration.
In addition to materials used in
contact lenses
, there are other things that need to be considered in order to maintain eye health. In view of this device are directly related to the eye then the cleanliness must be maintained. Before touching contact lenses, always wash your hands first so as not to contaminate contact lenses.
Contact lens storage should also be rinsed to clean every time after use and should be replaced once a month. Lastly, always check the eye every six months to prevent the occurrence of side effects on the eyes, remembering that not all eye disorders have symptoms.