Instant noodle in Indonesia is phenomenal. Despite frequent rumors about the ill effects of consumption of instant noodles for the body, such as sales of food products is not affected. Instant noodle consumption in this country has been through five kilograms per capita in 2005.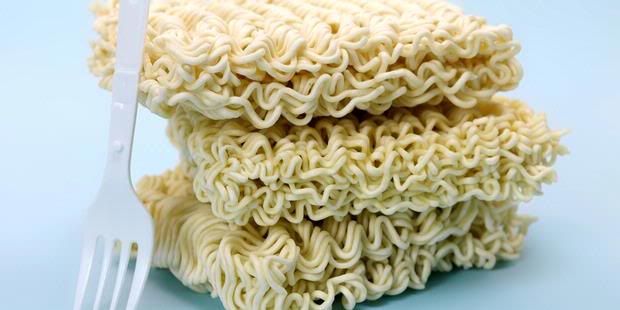 However, the issue of withdrawal of instant noodle products produced by PT Indofood Sukses Makmur Tbk CBP in Taiwan raises again the issue of food security. Taiwan's Health Department said Indonesia's instant noodle products contain preservatives E218 or methyl p-hydroxybenzoate which should be used for cosmetics and beauty.
Local media coverage in Taiwan also mentioned, Indonesian instant noodle consumption is causing pain in the stomach and various other disorders.
Responding to the news, Food and Drug Supervisory Agency (POM) explains, nipagin aka methyl p-phydroxybenzoate that serves as a preservative is safe with maximum usage. For soy, the maximum usage allowed is 250 mg/kg.
Head POM Kustantinah mention, from the study requirements in some countries, like Canada and the U.S., the limit of use in food nipagin allowed is 1,000 mg / kg, while in Singapore and Brunei, the limit of the use of soy 250 mg/kg and Hong Kong amounted to 550 mg/kg.
"Thus, the registered brand of
instant noodles
in Indonesia declared safe for consumption," said Kustantinah.
Meanwhile, Eddy Setyo Mudjajanto, community nutrition lecturer Faculty of Human Ecology, Bogor Agricultural University (IPB), when contacted on Monday (11/10), states, preservatives are used by the industry so many kinds of
instant noodles
and generally safe.
"During this time, we use the standard food-oriented food safety agency in the U.S./FDA. If safe to say, we followed suit. Yet, despite declared safe, need to be studied whether the amount is also within safe levels," he said.
Based on the IPB research ever undertaken on the instant noodle product that circulated in Indonesia, Eddy said, the total amount of preservative that is used varies. "I do not know the details, but in general there are 7 components in
instant noodles
, including preservatives, dyes, and antioxidants," he explained.
Regarding the impact of preservatives to health, he says, if the consumption of durable food regularly and continuously, can lead to health problems, including cancer.
"I have found no scientific evidence on this point, the new allegations. Therefore, we recommend the consumption of
instant noodles
should be limited to a maximum of three times a week," he said.
Problem of whether or not the allegations are, of course need the attention of the Ministry of Health because of
instant noodles
consumed many people of Indonesia.